Crayton Cove Naples Florida History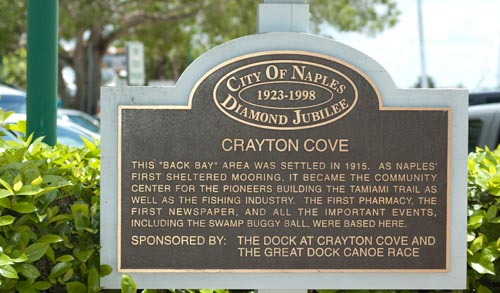 CRAYTON COVE - A GLIMPSE INTO THE PAST
Naples, Florida, December 17, 1997 - Crayton Cove - where 12th Avenue South meets the City Dock and Naples Bay. From its earliest days, it has been a "town center", and today it remains an integral part of Naples' social and business life, while providing a rare glimpse into the town's earliest days. In 1915, Annie Rivers and her son Chiz were among the first settlers of this area, then known as "The Back Bay", because it provided the town's first sheltered moorage. The Back Bay Docks, managed by Brembury Storter, catered to the fishing trade and, reportedly, a few prominent bootleggers.
By 1927, Back Bay had become the community center for the year-round pioneers who were building the Tamiami Trail, creating a fishing industry, and laying the foundation for Naples. The Bayview Inn, a grocery store and hotel incorporating Naples' first pharmacy, made these people feel at home. The Bayshore Hotel held a pool hall, dance floor and large dining room, as well as Naples' first newspaper, The Naples Transcript. At the Dyches Dry Goods Store, "Sugar Boy", a tame deer, made children squeal with delight.
In 1935, Benny Morris purchased most of the area from Ed Crayton, and, to show his appreciation, renamed it "Crayton Cove". The White Pelican, located where the Cove Building sits today, held all the important events, including the Swamp Buggy Ball. The Bayview Inn passed through several owners, including the Wynns and the Boltons, but was destined for demolition after Hurricane Donna in 1960.
In current times, Crayton Cove is anchored by the City Dock and the Dock Restaurant, which opened in 1976. The area hosts an interesting mix of marine, lodging, retail, office and restaurant businesses. Each year, it is the site for the Great Dock Canoe Race, arguably Naples' most popular event, which will celebrated its 23rd anniversary in May, 1999.
Crayton Cove, revitalized in 1996 with a roundabout, new landscape and hardscape, and enhanced parking and pedestrian access, today retains its community vitality and its historic significance, providing a contemporary interpretation of its historical role as Naples' town center.